Water Power Bank/Generator
Model No.

WL-205
Water Power Lamp, Water Power Generator, Water Power Bank, Portable Power Bank
Spec
Light Source:LED
Power Supply:DC
Type:N/A
Luminous:90-100lm
Water Capacity:680 ml
Salty Density:40g
Dimension:182x130x80mm
Charging current:300mA
Working Temperature:-15 ~ 50 degree C
USB O/P:DC5V, 320mA
Mg Bar Llife:LED 100hr/Charging 24hr
Net Weight:510g
Key Features
Water Power Bank/Generator-(WL-205)
No battery
No Poison
Light ON & Charging device
-Dimension: 182x130x80mm
-Net weight: 510g
-Luminous: 90-100lm
-Water Capacity: 680ml
-Salty Density: 40g
-Working temperature: -15oC ~ 50 oC
-Working voltage: LED 3V/Charge 5V
-Working power: LED 1.5W/Charge 3W
-Mg-Bar lifetime: LED 100hrs/Charge 24hrs
> >Water Changing time: Lights 20 hours, Charge 8 hours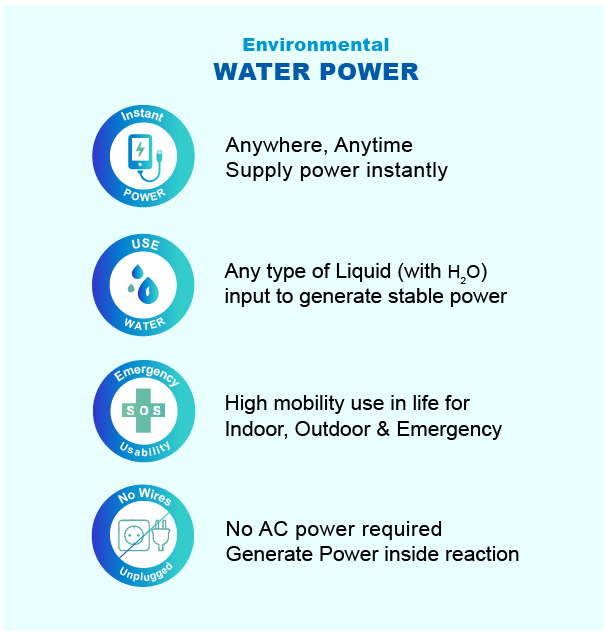 < water power's product concept >
Combining creativity, interest, environmental protection and experience science is the biggest feature of hydrodynamic products. You can fill water in the product to produce energy, or you can observe the flow of water in the transparent shell increases interest, and when you use water battery products, it is also saved several traditional batteries for the earth and participated in environmental protection actions
< characteristic >
➢ eco-friendly products
➢ no batteries require
➢ only water operate
➢ eco-friendly products no batteries require only water operate indoor/ Outdoor / emergency can be used
Add some water and salt to use. No battery required. No pollution, very environmentally friendly. Suitable for indoor and outdoor. Attach the USB connector, then you can add power to the phone.
< Note >
In emergency, Tea, Drink, Sea water, Urine etc liquid also can be used with salt.
Working, Mg bar dissolves and reactants is non-toxic magnesium hydroxide, which will note contaminate the environment. Please rest assured.
Mg bar may dissolves and blind if you do not change the saltwater. Change saltwater every 12 hours or empty tank of saltwater if not used for long time (over one week).
Mg bar is consumable with useful life 120 hours, replace the Mg bar after consumed. Please buy from sales agent.
Due to lower current value some devices cannot be recharged. Please confirm the charging requirement specification of your device.
< how to use >
Open water inlet cap, pour in salt firstly and then pour in water up to triangle mark.
➢ According to graduated mark and add 40g salt
➢ Use water container pour water in
➢ Triangle mark is water line
Close water inlet cap, and shark the body slightly to combine the water and salt in in the tank
✧ If the temperature is below 0 °C pour in double density of salt to avoid water freeze.
Insert charging wire, press the switch, green charging indicator light, can be connected to the phone's dedicated charging line for mobile phone or battery charger. In order to improve the charging efficiency, can pour in double density of salt.
✧ To avoid exhaust hole leaking, DO NOT tilt.
Close water inlet cap and keep exhaust hole open.
Press the power button again and LED lights turn on.
Payment Details
Payment Terms:TT ,PayPal
Minimum Order:1 Piece(s)
---
You may also like
Recommendations
---
Small Order Recommendation