Water Power Deco / Christmas Light
Model No.

WL-123

Made in

Taiwan
Cordless Deco light / Christmas light/Do not use a battery, environmental protection is our pursuit
Spec
Type:Party Decoration,Indoor Christmas Decoration,Outdoor Christmas Decoration
Dimension::89x72x196mm
Mg-Bar lifetime::30day/100led; 21days/200led
Net weight: :220g
Output current::<100mA>
Salty Density::15g/300ml
Water Capacity::300ml
Water changing time::7day/100led; 5day/200led
Working temperature::-15oC ~ 45 oC
Key Features
Water Power Deco / Christmas Light-(WL-123)
No battery
No Poison
long last light ON
eco-friendly products
only water operate
Indoor / Outdoor use
Safe (No Danger)
-Dimension: 89x72x196mm
-Net weight: 220g
-Water Capacity: 300ml
-Salty Density: 15g/300ml
-Output current: < 100mA >
-Working temperature: -15oC ~ 45 oC
-Mg-Bar lifetime: 30day/100led; 21days/200led
> > Water changing time: 7day/100led; 5day/200led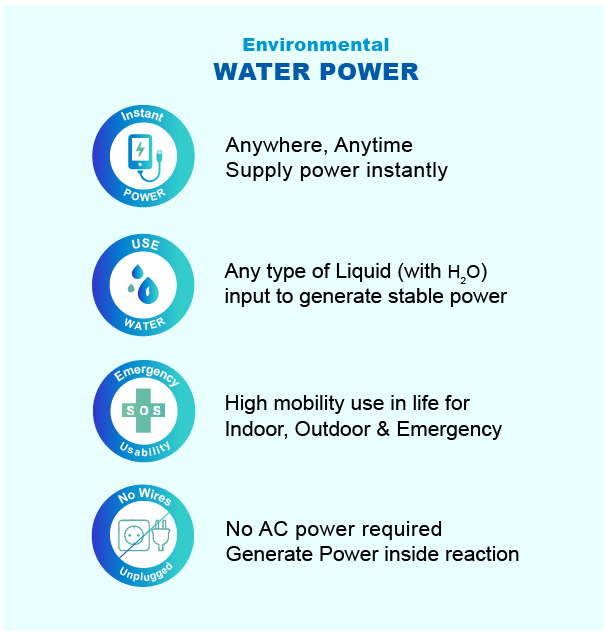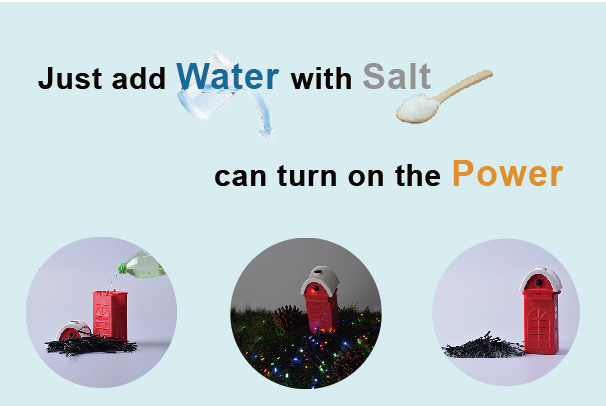 < water power's product concept >
Combining creativity, interest, environmental protection and experience science is the biggest feature of hydrodynamic products. You can fill water in the product to produce energy, or you can observe the flow of water in the transparent shell increases interest, and when you use water battery products, it is also saved several traditional batteries for the earth and participated in environmental protection actions.
< how to use >
1. Put 15g of salt into the salt bag first, then pour about 350cc of water into any water container for use.
2. When using, open the water injection hole, first add salt (15g) and add water to the mark of the triangle water mark.
3. Plug the inlet plug and gently shake the body to speed up salt dissolution in the water.
4. Tighten water injection hole plug, ventilation holes must be kept unimpeded.
5. Connect the Christmas lights to the wiring plugs.
6. Press the switch once, the Christmas light is on, press the second switch, and the Christmas lights flash.
7. Placing non-pourable, in order to avoid water leakage holes.
8. Pull out the water injection hole plug, lift the handle and pour out the water.
9. During use, the deposits of mg bar dissolved in the water tank will solidify, and it is necessary to replace the salt water once a week. If not, drain the salt water and dry it.
< Note >
The reactants are non-toxic magnesium hydroxide, which will not cause environmental pollution and can be used with peace of mind
Main Export Market
France ,Korea, North Korea ,Taiwan ,United Kingdom ,United States
---
You may also like
Recommendations
---
Small Order Recommendation